All of our Cambodia itineraries are tailor-made for each individual client, according to their requirements and preferences. We do not sell pre-packaged trips of any kind. However, to show you how some of our trips can fit together, and the kind of holidays that previous clients have taken, we have laid out here a few examples. These are for example purposes only and should not be taken restrictively. Your trip can include a combination of any parts of these itineraries - the only limitations are your budget and your timeframe!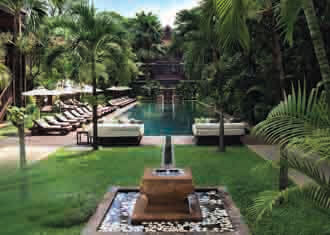 Cambodia Odyssey
$2,565 per person (inc. internal flights)
Experience the very best of Cambodia in this 10-day itinerary including Siem Riep (for Angkor Wat), Phnom Penh and 4 nights in the original French colonial beach resort of Kep.

MORE +
This fabulous hotel is one of the most luxurious properties in Cambodia, La Residence d'Angkor sits close to the breathtaking complex of temples that has made Siem Reap so famous. With Khmer style architecture the hotel has a relaxing and serene atmosphere and is the perfect place to unwind after a thrilling day in the Angkor Park.


The small boutique Governor's House is located in probably the best residential area of Phnom Penh, this new hotel is a breath of fresh air to the hotel scene in the capital, renovated from an old rustic colonial style mansion. With a good central location this is a wonderful property to spend your days lazily in Phnom Penh.


Knai Bang Chatt is set on a beautiful and tranquil beach converted from 3 modernist houses with lots of facilities to keep you entertained. Kep moves at a slower rate than Sihanoukville but that's what makes it so special. The original of the French colonial beach resorts, Kep is a town that will engross you and the Knai Bang Chatt you will fall in love with.

enquire now
false
false
false
false
false
false
false
false
false
false
false